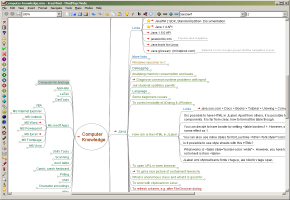 FreeMind è un software per la realizzazione di mappe concettuali.
Presentazione ufficiale
A mind mapper, and at the same time an easy-to-operate hierarchical editor with strong emphasis on folding. These two are not really two different things, just two different descriptions of a single application. Often used for knowledge and content mgmt.

FreeMind is a premier free mind-mapping software written in Java. The recent development has hopefully turned it into high productivity tool. We are proud that the operation and navigation of FreeMind is faster than that of MindManager because of one-click "fold / unfold" and "follow link" operations.
---
IDE
File
| | | | |
| --- | --- | --- | --- |
| Control | N | New | Nuova mappa |
| Control | O | Open | Apri … |
| Control | S | Save | Salva |
| Control+Shift | S | Save as | Salva con nome … |
| Control | P | Print | Stampa |
| Control | W | Close | Chiudi mappa |
| Control | Q | Quit | Uscita da Freemind |
| | |
| --- | --- |
| Control+LEFT | Mappa precedente |
| Control+RIGHT | Successiva |
| | | |
| --- | --- | --- |
| Control | E | Esporta in formato HTML |
| Control | H | Esporta il ramo in formato HTML |
| Control | A | Esporta il ramo come nuova mappa |
| Control+Shift | W | Apri il primo file tra i recenti |
Modifica
| | | | |
| --- | --- | --- | --- |
| Control | F | Find | Trova |
| Control | G | | Trova successivo |
| Control | C | Copy | Copia |
| Control | X | Cut | Taglia |
| Control | V | Paste | Incolla |
| Control | Y | | Copia singolo |
Nodo
| | | |
| --- | --- | --- |
| | F2 | Modifica il testo |
| Alt | INVIO | Modifica il testo esteso |
| Control | K | Inserisci un collegamento ipertestuale |
| | | |
| | INVIO | Un nuovo nodo fratello sotto |
| Shift | INVIO | Un nuovo nodo fratello sopra |
| | INS | Un nuovo nodo figlio a destra |
| Shift | INS | Un nuovo nodo padre a sinistra |
| | CANC | Elimina il nodo |
Mode commands:
MindMap mode – Alt+1
Browse mode – Alt+2
File mode – Alt+3
Node formatting commands:
Italicize – Ctrl+I
Bold – Ctrl+B
Cloud – Ctrl+Shift+B
Change node color – Alt+C
Blend node color – Alt+B
Change node edge color – Alt+E
Increase node font size – Ctrl+L
decrease node font size – Ctrl+M
Increase branch font size – Ctrl+Shift+L
Decrease branch font size – Ctrl+Shift+M
Node navigation commands:
Go to root – ESCAPE
Move up – UP
Move down – DOWN
Move left – LEFT
Move right – RIGHT
Follow link – Ctrl+ENTER
Zoom out – Alt+UP
Zoom in – Alt+DOWN
New node commands:
Add sibling node – ENTER
Add child node – INSERT
Add sibling before – Shift+ENTER
Node editing commands:
Edit selected node – F2
Edit long node – Alt+ENTER
Join nodes – Ctrl+J
Toggle folded – SPACE
Toggle children folded – Ctrl+SPACE
Set link by filechooser – Ctrl+Shift+K
Set link by text entry – Ctrl+K
Set image by filechooser – Alt+K
Move node up – Ctrl+UP
Move node down – Ctrl+DOWN
---
RISORSE ONLINE