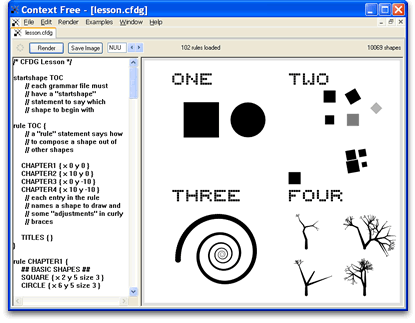 Context Free è un'applicazione e un linguaggio per la generazione di immagini
Ogni immagine è descritta tramite un insieme di regole che saranno utilizzate dal motore grafico integrato per generarla.
In ogni momento è possibile cliccare sul pulsante Render e ammirare il risultato nella finestra grafica integrata!
CFDG, Context Free Design Grammar, è il nome originale dell'applicazione da riga di comando.
È disponibile per Mac, Windows e Posix/Unix.
Il suo codice sorgente è libero (GPL).
Context Free (and the command-line tool cfdg) is a digital art program that takes a description of an image and generates the image (as a bitmap, vector image, or movie).
The description is in the form of a context free grammar and is called a cfdg file (aka context free design grammar).
Prova subito!
RISORSE ONLINE
---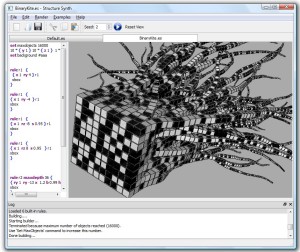 Structure Synth fa le stesse cose ma in un ambiente 3d!